Regular Giving
We all plan our regular giving to the church.  We give in a variety of ways, whether we give weekly, monthly or yearly.  It is a good idea to review your givings on a regular basis since our life situations are always changing.  Regular giving can be done by:
Cash or Cheque,
PAR form (Pre Authorized Remittance).  Once form is completed please send to kucdonate@bmts.com
Donation of mutual funds or stocks (best option for tax savings)

United Church of Canada Foundation
Memorial and Legacy Giving
There are many different types of memorial and legacy gifts.  The principles which govern any received or deferred gifts are detailed in the Kincardine United Church Policies & Procedures Manual, section 3.1.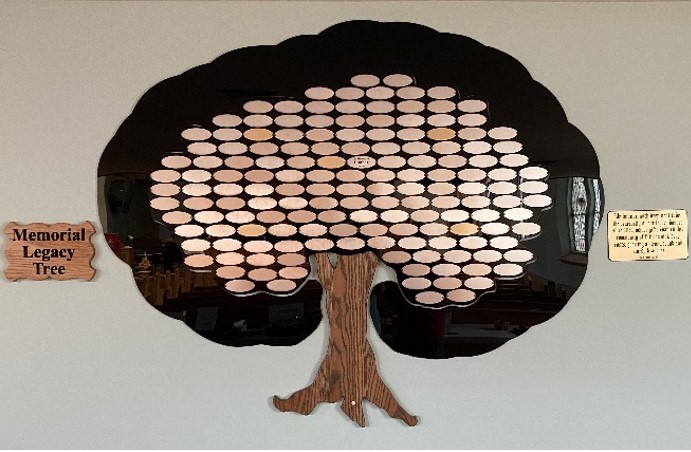 The Memorial Legacy Tree was created to celebrate the lives of those who have made our church their community of faith in the past and present.  It is a physical reminder to congregants that a memorial or legacy gift to the church is much appreciated and acknowledged.  Memorial or Legacy gifts can be recognized with donations as follows:
silver leaf is engraved for any gift amount from $1000 to $9999;
gold leaf is engraved for any gift amount of $10,000 or above;to $24,999;
bronze leaf is engraved for any gift amount of $25,000 to $99,999
marble leaf is engraved for any gift of $100,000 or above.
Memorial gifts are gifts to the church in memory of someone special to you, who you would like to acknowledge.  A legacy gift is a gift you plan now – which will benefit the church in the future; most commonly it is donated through the will (see Wills and bequests).  Memorial and Legacy gifts can be directed in two ways:
to support the congregation or a ministry of the wider church on current projects or financial needs; or
to support Kincardine United Church or a ministry of the wider church in perpetuity.
At Kincardine United Church we feel Legacy giving is important, so in September 2020, our church formed The Legacy Giving Ministry Team (find out who we are by clicking on the name).  If you would like someone from our team to contact you, use the confidential email of the Donation Steward: kucdonate@bmts.com
The United Church of Canada Foundation
OR
Canada Helps
What are the options for Legacy Giving?
Estate planning is not a simple task.  Everyone's circumstances are different, so it requires a lot of soul searching to decide what is important to you, and a lot of research to determine what is achievable with what you have.   
Click on any of the links below for more information about the various options.
CONFIDENTIALITY
Confidentiality is Important to us and to you. We want to assure you that any information discussed will be confidential.  To facilitate your planned giving, feel free to contact John Phillips (Donation Steward) at kucdonate@bmts.com or any member of the Legacy Giving Ministry Team.